Collagen manicure is a pretty new type of manicure and it cost a bit more than regular basic manicure if you get it done from a salon. Here you will learn how to to collagen manicure at home with a very simple method. Also know what is a collagen manicure ?
So, a collagen manicure includes all the steps like cleaning, nail buffing, nail filing etc just like the regular manicure. In collagen manicure there is an added process of applying collagen to your hands and nails.
Collagen can be applied in different forms like cream, serum, mask etc. There are even gloves which has collagen included or ingredients that induce collagen production. You can wear those gloves to let your skin infuse all the goodness.
But being a natural beauty lover, I always try to find natural alternatives to everything that our skin and hair needs. For this manicure I found the best natural collagen booster ingredients. So, before starting with the recipe you should know few things like
WHAT IS COLLAGEN :
Collagen is the most abundant protein which is found in various connective tissues of our body. It is found in joints, bones, skin, nails, muscles, teeth etc. Well our body produces collagen itself but as the age increases the production of collagen decreases.
Lack of collagen leads to wrinkles, fine line, weak bones, joints, hair thinning, slow injury recovery, gut health issues etc.
You can also see this homemade vegan collagen powder recipe.
Now let's know why collagen is necessary for nails.
WHAT DOES COLLAGEN DO FOR NAILS :
Collagen contains some amino acids like arginine, it is important for nail growth
Helps to reduce nail breakage, makes your nails strong
Due to increasing age and workload nails get brittle, collagen helps to reduce brittle nails
Collagen improves overall health of your nails. Makes your nails nourished and beautiful.
So, when a collagen mask, serum, cream or glove is used. It provides benefits to both your nails and hands. Reduces wrinkles and fine line on hands, make nails strong, healthy and reduce dryness. Using collagen helps to make your hands and nails both beautiful.
Now, let's see the most simple method to do
STEP BY STEP COLLAGEN MANICURE AT HOME :
Step 1 : Preparing Your Nails
The first step to start any manicure is to prepare your nails. For that you need a nail polish remover and a cotton pad. Remove any residual nail polish if you have on your nails.
Step 2 : Hand Soak
The next step is to soak your hands in a simple solution. For that you need :
Warm water – half bowl
Baking soda – 1 teaspoon
Gentle liquid soap – 1 teaspoon
Lavender essential oil – 3 drops
In a bowl add warm water, then add baking soda, liquid soap and essential oil. Give this solution a nice mix. Place your hands in it for about 7-8 minutes and then rub your hands in water and rinse. Then dry them using a soft towel.
This hand soak will help to remove any dirt from your hands. Using warm water will help to open skin pores because it will help to infuse the collagen into skin.
Step 3 : Nail Filing
Take a nail filer and file your nails. You can give any shape to your nails that you like. After filing your nails make sure to use a cotton pad or soft clothe to clean your nails.
Step 4 : Cuticle Care
If you know how to trim your dead skin around your nails then you can surely use a cuticle cutter to trim the dead skin. If you don't know how to properly trim, then you can use a cuticle pusher or even a wide toothpick to push back your cuticles.
Step 5 : Nail Buffing
The next step is to buff your nails with the help of a nail buffer. Nail buffing includes rubbing the nail buffer on your nail bed.
Nail buffing helps to get rid of brittle nails, smoothens the nail bed and gives an excellent shine to your nails. You can also use a nail buffing cream while buffing your nails.
I already shared a recipe on this blog for making diy nail buffing cream at home.
So, below are the steps to easily buff your nails :
In the beginning use the roughest side of your nail buffer
Buff your nail from one side to the other side while being gentle for 1-2 minutes
Clean your nail with a cotton pad
Now you can apply buffing cream if you want. It is completely optional
If you are using the nail buffing cream, then apply the cream on your nail and massage it for 2-3 minute in circular motion
After that use the smoothest side of your nail buffer and buff your nails again for 1-2 minutes. Then clean them with cotton pad
You will instantly notice the shine and smoothness to your nails.
Ok, so the nail buffing cream is an optional step. If you don't have the cream then you can simply skip cream step and follow all the other steps. Like firstly use the roughest side and then use the smoothest side.
Step 6 : Using Collagen
The main step of this whole collagen manicure is to use collagen for your nails and hands. As I already mentioned collagen can be used in many forms. I created a collagen nail and hand mask using natural ingredients. Check out the recipe
Ingredients :
Gotu kola powder – 1 tablespoon
Orange peel powder – 1 tablespoon
Geranium essential oil – 3 drops
Rose water – as needed
Directions :
In a bowl add gotu kola powder and orange peel powder
Then add essential oil and mix
Add rose water and mix gradually to make a smooth paste
Homemade collagen nail and hand mask is ready.
Now again take a bowl of warm water, place your hands for 2-3 minutes. Then dry with towel. Apply this collagen mask on your hands and nails. Keep it for 10-12 minutes and then rinse using plain water.
You will notice an instant glow and smoothness to your hands and nails. The reason I used these 2 main ingredients because they are filled with many beauty benefits and boost collagen. Let's know some benefits.
Benefits of Gotu Kola :
Gotu kola also known as Centella Asiatica is considered as one of the best natural collagen booster herb.
It is an amazing source of antioxidants, which helps to fight with free radicals
Helps to reduce wrinkles, fine lines naturally and make your skin firm naturally
It is a great exfoliator, which helps to remove dead skin cells, dirt and clears your skin.
You can also check out this homemade gotu kola face mask for boosting collagen naturally.
Benefits of Orange Peel Powder :
Orange peel is an amazing source of vitamin c, which helps to fight free radical damage.
It helps to brighten your skin and reduces skin tanning
It helps to boost collagen in your skin and makes skin firm
Reduces fine lines and wrinkles and provides hydration.
Step 7 : Applying Nail Polish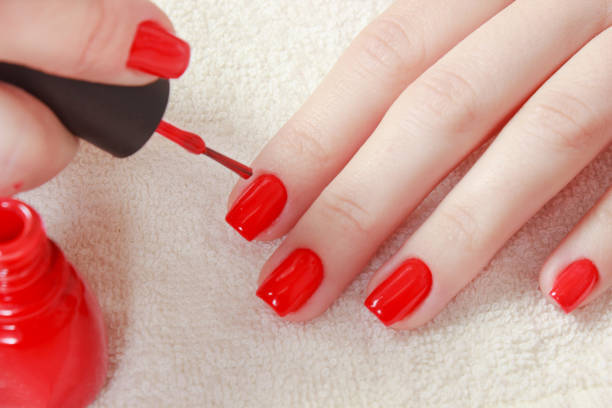 Ok, so this is the last step of our collagen manicure. After rinsing your hands dry them using a soft towel. Your hands will feel super soft and glowing.
Apply a base coat on your nails. Then choose your favourite nail polish and apply it the way you want. Seal your nail polish with a top coat and you are done with your collagen manicure at home.