Here you will learn a simple step by step by guide on how to do pedicure at home easily. It's an easy pedicure method that you can do by yourself at home.
Pedicure is a self care treatment which you should do or get done once a month. As it helps to make your feet soft, reduces dryness, removes dead skin & nourishes your skin deeply.
In this method you don't need any expensive tools or products. To be very honest you just need a bit patience because it's a bit lengthy process but it's really worth your time.
You will feel so good during your pedicure and of course after pedicure. lets jump to the process without wasting any time.
A STEP BY STEP GUIDE TO DO PEDICURE AT HOME :
STEP 1 : PREPARE YOUR FEET
THINGS YOU WILL NEED :
Cotton ball & Nail polish remover
Take a cotton ball, apply some nail polish remover
Remove any residual nail polish from your nails
Remove nail polish from the corners also
Now your feet are ready for the further process.
STEP 2 : FEET SOAK
THINGS YOU WILL NEED :
A tub, 2 tbsp shampoo, 1 tbsp baking soda, 1 tbsp salt, a scrubber or loofah & a towel
Fill a little hot water in the tub
Add any shampoo, baking soda & salt in the water & mix everything
Now sit back & place your feet in the water
Sit relaxed, placing your feet in tub for 10 minutes
After 10 minutes, scrub your feet using scrubber or loofah for proper cleaning
Specially scrub your heel & corners of your toenails properly
Place your feet again in water & clean them
Dry your feet using towel.
STEP 3 : GROOMING YOUR TOENAILS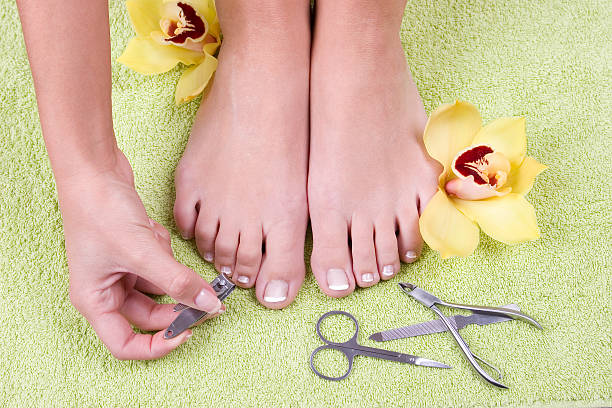 THINGS YOU WILL NEED :
A nail cutter, cuticle cutter or tooth pick, cotton, hair removing razor & nail buffer
Cut your nails using nail cutter
After cutting your toenails, use a buffer to give your toenails a nice shape
Now use a cuticle cutter or toothpick to remove dead skin from your cuticle area
Take some cotton and clean your toenails
Take a hair removing razor & remove hair from your feet ( if you have )
Clean your feet using cotton, to remove hair.
P.S. You can also check out my homemade nail buffing cream recipe. This cream will helps to make your nails smooth.
STPE 4 : ULTIMATE DEAD SKIN REMOVING
THINGS YOU WILL NEED :
A tub, some little hot water, foot scrubbing stone, 1 lemon, toothbrush, toothpaste & a towel
Add little hot water in a tub & squeeze lemon juice in it
Soak your feet in water for 5 minute
After 5 minute, use foot scrubbing stone & scrub the lower part of your feet properly
Scrubbing stone will remove dead or any extra skin from your heels
Dip your feet in water & dry them using a towel
Now apply some toothpaste on your toenails & brush them using toothbrush for 2-3 minutes
Applying toothpaste will help to clean your toenails properly & will reduce darkness
Dip your feet again in water & dry them with towel.
STEP 5 : FOOT SCRUB
THINGS YOU WILL NEED :
1 Tbsp rice flour ( optional ), 1 tbsp honey, 1 tbsp sugar & 1/2 tbsp salt
In a bowl add the above ingredients & mix, your homemade foot sugar scrub is ready
Now take out some scrub & spread on your feet
Scrub every area of your feet properly for about 3-4 minutes
Wash with plain water & dry
This foot scrub helps to remove dead skin cells & make your feet very soft.
STEP 6 : FOOT PACK
THINGS YOU WILL NEED :
1 Tbsp gram flour or chickpea flour, a pinch of turmeric powder, 1 tbsp milk
In a small bowl add the above ingredients & mix. Your homemade foot pack is ready
Apply this foot pack on your feet using your hand or brush
Keep it for 6-7 minutes
Wash your feet with plain water & dry them
This foot pack will help to reduce darkness & tan from your feet.
STEP 7 : GIVING YOUR FEET A PROFESSIONAL PEDICURE LOOK :
THINGS YOU WILL NEED :
A good moisturizer & your favorite nail polish
Take a good amount of moisturizer and apply on your feet ( upper & lower part )
Massage on your feet gently for 4-5 minute. It will help to absorb moisturizer in your skin & improves blood circulation
Now apply your favorite nail polish.
Yes, now you are done with your professional pedicure at home. Which is very affordable & relaxing.